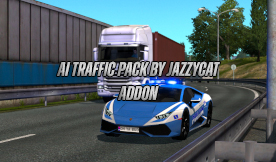 Always check if the uploader is 'Noeny'
If the mod is anywhere else than ets2.lt ( Steam Workshop version will be added later, same for the SCS Forum ), then report the mod.
Mod is an add-on to the drivable ai mod in the steam workshop.
Mod adds the following:
Audi A2, Etron
Ford Fiesta
Saab 9000, 93 02, 93 08, 95
Seat Ibiza
Tesla 3, X
VW up
Volvo 850, 940, C30, S60 04, S60 11, S60 19, S80, V40, V60, XC90 17
Selection is limited currently but more cars are added in future updates.
Comment if you want a specific vehicle added to the mod.
The tires corresponding to the vehicles are in this mod as well, if the tire is not there, then it means that the tire is already in the base mod.
The Mod Image is from the version that MightyBeno and Bosuball made.
This mod was inspired by a Steam Workshop Mod By 'MightyBeno' and 'Bosuball' that makes a few of the cars in the traffic pack drivable, but those cars weren't quite to my liking.
Do NOT reupload to other sites!
Do NOT REEDIT the mod unless for personal use!
You need the Ai Traffic Pack By Jazzycat for this to work! Or the game will crash when you select a chassis from the mod!
Subscribe to my YouTube channel! : https://www.youtube.com/channel/UCS4NnvV19Y6tZvpJEKFyxSg
Credits:
Jazzycat
Noeny
Bosuball & Mightybeno
DOWNLOAD 118 KB